The restaurant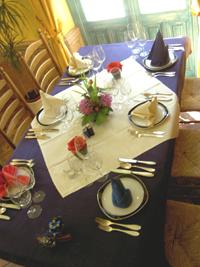 "We're happy if you're happy..."
"Our kitchens offer you a creative and contemporary cuisine using good, honest seasonal ingredients: The taste of real food made from local, seasonal produce; real "home grown" produce, natural and full of flavour"
Etienne Son was born to cook - his parents ran the "La Claire Fontaine" restaurant in La Roche-en-Ardennes for many years. In fact Etienne, a member Eurotoque since 2000, was Executive Chef there for more than 15 years.
Marie-Paule and Etienne have now been happily running "Les Tilleuls" since 1996.
Etienne puts quality first and invites you to discover the flavours and finesse of a local take on French cuisine.
Those 5-star touches:

Our restaurant can seat groups of up to 50.
There is no fixed menu – dishes are decided on the day according to the season, what is available on the market and the Chef's inspiration. For groups, we'll be happy to draw up a menu together.
> Menus
In fine weather, meals can be served on the terrace overlooking the Ourthe valley.